Tomorrow, I'm leaving on a 2,000 mile road-trip around the Southwest. The plan: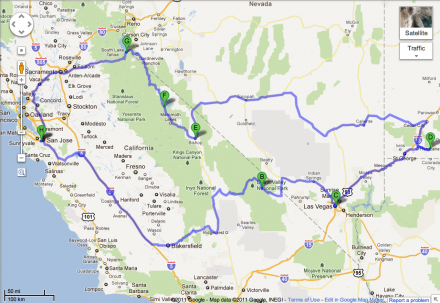 Friday: Drive to Death Valley, an 8 hour trip.
Saturday: Explore Death Valley in the morning, driving down to Bad Water. By 2pm, however, I'll be back on the road heading to Las Vegas. There, I'll stay at the Westin (Points!), watch a Carrot Top performance (I'm skeptical, but he gets rave reviews), and explore the strip.
Sunday: Explore Las Vegas a bit more, and possibly take a ride on the Stratosphere Hotel's Sky Jump. That evening, I'll hop in the car to drive to Zion National Park.
Monday-Wednesday: I'll explore Zion. Ideally, I want to camp, but weather seems risky, and the best multi-day trips are at high elevations. I suspect I'll end up doing a combination of day hikes.
Wednesday: I'll drive to Lake Mono, and explore the area. It is a long trip, so most of the day will be spent in the Nevada deserts. At this point, I'll find out whether Yosemite is open enough for me to drive through, which will determine my course for Thursday.
Thursday: I'll drive back to San Jose, either through Yosemite or via southern Lake Tahoe. All told, the trip will go about 1700 miles and leave me in a car for 29 hours. Should be fun!