Yesterday, I attended MacWorld with Ryo Akasaka & others from Stanford's human-computer interaction program. It was an interesting show–more like a focused street fair than a true convention, but two pieces of software caught my eye.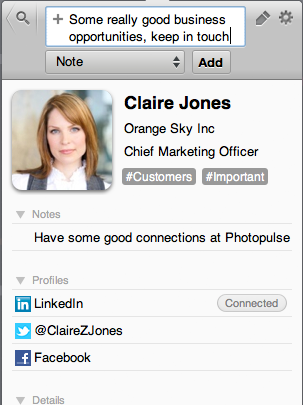 CoBook is (yet another) app which tries to tackle the address book space–something that's really necessary, once you get beyond managing a few friends and family members in Address Book.
It clearly is a piece of beta software–it crashed quickly while indexing my contacts, and doesn't have a tear-away option, so you can't see contacts while in another program–but it does a lot of things right, starting with baked-in Facebook/LinkedIn/Twitter integration to match what's done on iOS devices, really easy note-taking to remember context, and syncing with most of OSX's default software. Which, unfortunately, doesn't seem to include Exchange. Still, they're planning to launch a full version soon (~$25), and I'm looking forward to it.
Soonr is a cloud document sharing service, which is interesting … but I was particularly excited by Soonr Scribble, an app they apparently just released at MacWorld (now on iOS). It lets people write on a wide range of documents–not just PDFs, which seems to be industry standard.
I'm a little concerned that it requires a Soonr account, which starts at $99/year, but I could still imagine it as a boon to college students and consultants, for mark-ups and note taking on the fly. It also makes a stylus a much better option, though I'd recommend avoiding the Griffin.