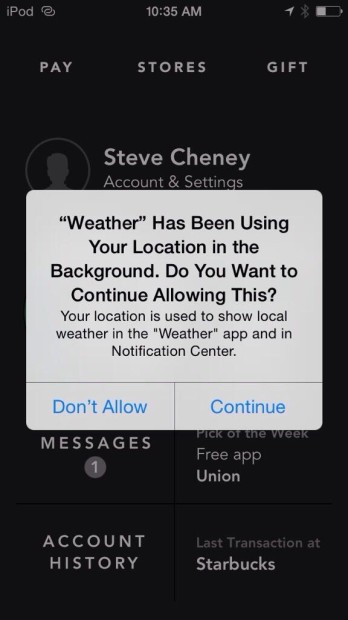 Steve Cheney, a SVP at Bluetooth beacon company Estimote just tweeted an iOS 8 screenshot asking him to reconfirm letting the Weather app use his location in the background.
This change seems to be built on iOS 8's new "While Using" location privacy option, which differentiates between active location lookup (say, when you want to find a restaurant near you) and background location lookup (for things like weather, or geofences).
This is a seismic change for location-dependent apps, and part of a huge shift in iOS 8 to fight for user privacy and to preserve battery life.
Changes relating to privacy, apart from background location, include:
Changing the device's Mac ID with every Wifi probe request to shut down an entire industry of retail analytics (which has the added side effect of promoting Apple's iBeacon technology)
Sandboxing their Touch ID implementation, so that apps can only see whether authentication was approved instead of fingerprint information
DuckDuckGo is now the default search engine in Safari. The search engine differentiates itself from Google by conducting minimal-to-no user tracking.
On the battery life front, the operating system how highlights apps which are battery hogs — and will indubitably lead to significant consumer pressure on those apps. For RedLaser, we saw a strong perception by users that background location tracking was correlated to heavy battery usage (which isn't always the case), but now users will have a much more precise metric … and some users care, strongly.
I'm excited to see where Apple is going. These changes have sealed up some big holes in the operating system, and are intensely pro-consumer.
(EDIT: There are more changes — I followed up here.)